In case you missed it, we recently announced TurboTax Live Full Service, a new offering that will transform tax preparation for taxpayers this season, and we couldn't be more excited. TurboTax Live Full Service allows you to virtually connect to a dedicated, live tax expert who will prepare and file your tax return for you in entirety — all from the comfort of your home, on your own time. Sounds good, doesn't it? That's only part of why this new offering is a gamechanger for your taxes. 
We know virtual services are more important than ever, so TurboTax Live Full Service allows taxpayers who would like a fully assisted tax preparation experience to completely skip the tax store and file their taxes with confidence on their own time. To make that happen for taxpayers all over the country, we match you with a tax expert based on your unique tax situation, state of residence, and language preference — English or Spanish — so you can rest assured TurboTax will help you get every dollar you deserve and your taxes are done right, guaranteed. 
TurboTax Live Full Service wouldn't be possible without our tax experts, who are so excited to help ensure you have the confidence and comfort you need when filing your taxes this year. And, guess what? Our tax experts are here for you year round to help with tax advice and planning for the coming year.  
In fact, we chatted with one of our amazing tax experts, Miguel Burgos, to give you a behind the scenes introduction and to hear why he thinks TurboTax Live Full Service is going to change your tax filing experience this year in the best way possible. We discussed a little bit about himself first, so you can get to know some of the tax experts that help and answer your questions when you need it the most.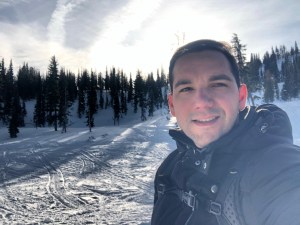 Meet Miguel Burgos, TurboTax Live Tax Expert Lead
Hi Miguel! Thanks so much for chatting with us. First, we'd love to know more about why you decided to join TurboTax as a tax expert.

Miguel: Remote opportunities! I love that I'm able to work from home and am able to balance my personal and professional life while helping people all over the country.
Connecting with others to help make life easier is what it's all about! Outside of work, what type of hobbies/activities do you enjoy?

Miguel: I love sports and outdoor activities; training, hiking and visiting state and national parks, salsa dancing, home winemaking, and I love supporting my community as a Bible teacher.
It seems like you know how to keep yourself busy, but it's always nice to stop and smell the roses every now and then. What's the most fulfilling part about helping people with their taxes?

Miguel: The "aha moment." Taxes can often bring challenges for taxpayers. But when they reach the point of clear understanding and insight for their tax situation, the sound of relief in their voices always brings me joy.
Speaking of challenges, let's talk about common ones. What's the most common tax-related question you've received?

Miguel: By far the most common question I get from taxpayers is if they can claim dependents and other dependent-related credits. Like "can I claim my XYZ…" or "Do I  qualify for this or that credit." Tax payers want to know if their tax situation could lead to savings and a bigger refund related to credits or tax deductions. And, we're here to help them get the refund they deserve.
Now, we'd love to shift gears and learn about something extra amazing that you've experienced as a tax expert. What's your most memorable customer experience?

Miguel: Oh, absolutely! I helped a taxpayer who had income from several sources. He taught at multiple universities, and between all his jobs he overpaid FICA taxes. He didn't realize it until we worked on his taxes together, and he was able to claim a significant credit for the excess paid and amend previous years to claim refunds. 
Miguel on What Makes TurboTax Live Full Service a Gamechanger
Now more than ever, it's vital that taxpayers like you have opportunities to easily and confidently connect with tax experts like Miguel. Plus, TurboTax Live has all the online tools to make filing your taxes simple without having to visit in-person or mail anything to your tax expert. 
Here's more from Miguel himself (because you won't hear it better anywhere else) on critical factors that make TurboTax Live Full Service a game changer for your taxes.
So, in your own words, what exactly IS TurboTax Live Full Service?
Miguel: I like to think about TurboTax Live Full Service as your personal "tax office" at home. Taxpayers who prefer something beyond a DIY experience have a great opportunity to choose  Full Service within TurboTax Live and have someone like me handle their tax situation from start to finish (virtually!).
Could you tell us more about how TurboTax Live Full Service works? Basically, how does the magic happen?
Miguel: Of course! Essentially, an expert will give you a welcome call to virtually meet you (a personal favorite aspect of mine), explain the process, and instruct how to provide the required documentation. The expert then verifies your identity (safety first!), and once they have the required information, they proceed to prepare your tax return. Once the return is prepared, you will have the opportunity to review and authorize filing the return. Finally, the expert will file the return and confirm it's accepted by the IRS. The process should take 7 days or less.
Wow, you really ARE an expert (though we already knew that). To learn a little more about your take on TurboTax Live Full Service, what makes this service transformational for taxpayers this season? 
Miguel: Taxpayers will be able to have the best of two worlds: Real experts and technology work together to enhance taxpayers' tax preparation process. For our experts, it will significantly increase our range of reach to help taxpayers all over the country.
One question we've heard from taxpayers is whether they can actually get unlimited advice. Is that the case with TurboTax Live Full Service?
Miguel: We absolutely give unlimited tax advice. As long as it has to do with your individual tax situation, we can offer tax advice whether it's about self-employment, rentals, investments, dependents, tax credits, deductions, and more.
Thank goodness for that! Could you share what you expect to be a new focus this tax season?
Miguel: Due to the challenges during 2020 that people experienced all over the country and beyond, many taxpayers may be reporting unemployment income for the first time. They may wonder if it's taxable, how to report it, and if it will qualify them for other tax credits. There may also be questions around COVID stimulus measures and the tax implications. We're here to help taxpayers feel confident about all of that this tax season.
To close things out, what is the most important aspect that taxpayers should know about TurboTax Live Full Service?
Miguel: There's a great chance you'll love using TurboTax Live Full Service! It's safe, accurate, and convenient. We have credentialed tax experts with an average of 12 years of tax experience that can help you with your tax situation from start to finish without leaving the comfort of your own home.
About TurboTax Live
In addition to the new TurboTax Live Full Service experience, TurboTax Live continues to offer taxpayers the option to receive customizable support from experts — whether you need unlimited expert tax advice or a line by line review of your tax return before you file, our TurboTax Live tax experts are ready to help! TurboTax Live has a 100% Expert Approved Guarantee for all tax returns, advice, or reviews provided by TurboTax Live experts.
TurboTax Live and TurboTax Online products are now available at www.TurboTax.com, the Apple App Store, and Google Play Store.