Hey, solopreneurs: taxes and chill? 
In partnership with Create & Cultivate, we're hosting a digital event on March 17th to answer all of your self-employed tax & finance questions so you can keep your chill this tax season (and all year-round!)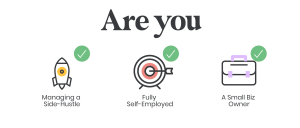 Whether you're starting a side-hustle, have multiple sources of self-employed income, are thinking of launching your own small business or already have a successful one, we're here to make sure you are ready to tackle your taxes and finances confidently.

Check out all of the awesome workshops, roundtables, and speakers we have lined up below, and RSVP HERE. 
And, don't forget that TurboTax Live Self-Employed is the perfect tax solution for freelancers, independent contractors, and small business owners. No matter how you want to get your taxes done (whether that's just a little help or fully handing your taxes off), you can feel confident your taxes are done right with help from TurboTax Live tax experts.
We can't wait to see you on March 17th at Taxes and Chill: A Digital Event To Help You Achieve Financial Success as a Solopreneur!
Money and Tax Talks – March 17, 2021
3-3:30pm PST: COVID-19 Resources and Guidance for Small Biz and Self-Employed [Live Workshop]
Join Lisa Greene-Lewis (CPA and tax expert, TurboTax) for a working session dedicated to COVID-19 relief, including the tax implications and resources available for theself-employed.
3:30-4:15pm PST: Finances First: Money and Tax Management Tips for Start-Ups, Content Creators, and Solopreneurs [Roundtable Discussion]
Learn how to prioritize your finances and find answers to all of your solopreneur tax questions in this roundtable discussion with Brittney Castro (Certified Financial Planner for Mint and the CEO and founder of Financially Wise), Lisa Greene-Lewis, Grace Atwood, and Katie Sands, moderated by Megan Beauchamp.
4:15-4:45pm PST: Side-Hustle to Fully Self-Employed: Finance and Tax Tips to Help You Transition [Live Workshop]
Ready to make the leap from side-hustle to fully self-employed? In this working session, Lisa Greene-Lewis and Brittney Castro will explain how to set yourself up for success from a finance and tax lens. 
4:45-5:40pm PST: Pivot to Profitability: Financial and Tax Planning to Strengthen Your Business Foundation [Roundtable Discussion]
Dive into a thoughtful discussion on how to build businesses in "the new normal," and learn guidelines for effective goal-setting with Brittney Castro, Lisa Greene-Lewis, Aleksandra Zee, and Julie Solomon in this roundtable conversation moderated by Ashley Dunn.