We know the past year has been hard on many people, emotionally and financially. Some of us found silver linings by connecting with people who gave us support, encouragement and helping hands in challenging times. TurboTax launched the #LittleLifts Sweepstakes to give people a chance to pay it forward by recognizing and nominating a person that made a difference in their lives.  
Each week of the sweepstakes, one lucky winner and their nominee were awarded $1,000 each! We are highlighting a few of these lucky winners, some of the challenges they've faced, and the stories of how their nominees helped give them a "Little Lift" during a difficult year. 
Diane, Florida 
My biggest challenge was COVID-19 and the inability to see friends and family. My nominee was my son who gave me many little lifts by staying in touch with me by phone and email and making me laugh.
Winning this sweepstakes will give me a little lift because I will share my prize with my niece and her six-year-old son who was just diagnosed with Type 1 Diabetes. Being able to make their financial situation a little easier and being able to give him some special gifts will certainly give me a little lift.
Siobhain, Texas
I faced a huge challenge last year and needed so much support. My dad was in desperate need of an organ transplant and me and my family knew how critical it was for him to receive it. On my birthday in 2020, we received a call that he would be receiving his transplant. I was so thankful, and because of the pandemic that meant I, along with my sisters, had to be super careful and stay at home with him to care for him. It was tough, but my aunt and one of my best friends in the world, Cecelia, always called and did whatever she could to make sure we were alright. Her love and prayers meant so much to me. 
I wanted to nominate her because I know this has been a stressful time for her financially. When I told her about this she was so overjoyed, and we both started crying because this will help both of us so much.
We both have always used TurboTax in the past because it's so reliable and we plan to use it this year too. 
Charlotte, California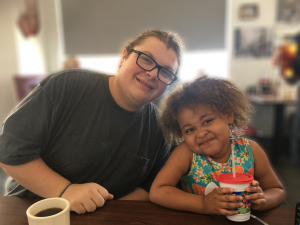 The challenge we faced last year is a common one that many people faced – being quarantined with a small child. Henry, my nominee, has helped us so much with raising our granddaughter. When COVID-19 struck, he lost his job, and committed himself to helping us with Daisy. Henry has done [virtual] school with her, helps her with homework, takes her bike riding, and for walks. He's helped my husband and I so much this past year, and we're both proud and grateful to him.
Winning this money helps us in that we can help Henry with his college books, classes, and bills. We're very grateful, and thank you very much TurboTax.
We've used TurboTax for many, many years. My husband does the taxes. He likes it because it makes it easy to do, and it's quick.
Thank you very much TurboTax for letting us recognize how much Henry has helped us.
Mary, Oklahoma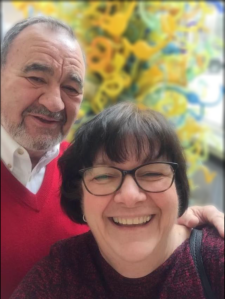 Like everyone else, we had to deal with all the isolation brought on by COVID-19. Additionally my husband Steve had to battle cancer – it's all good and everything turned out fine. However not being able to go to doctor's appointments, surgery, etc. escalated the COVID-19 challenge even more.
Through it all Steve has been a rock. He continues to make me laugh even though he faced adversity. I doubt you are going to find too many people that can say that during the height of COVID-19 isolation they were laughing their way through it.
We both love soccer. Oklahoma City has a semi-pro soccer team that we will be using the money to put towards tickets. We also will be buying tickets to the Oklahoma State Women's soccer team. We can hardly wait to go to the matches!!!! We will tuck the rest of the money away for a weekend getaway once travel is safe again.
I love TurboTax! For years we paid a lot of money to a CPA to do our taxes. About 3 years ago I decided to try TurboTax and could not believe how easy it was. And we saved so much money! I haven't turned back and we have been using it ever since.  
Margaret, New Jersey 
Because of health reasons and COVID-19, I didn't want people coming into our home to do repairs for this past year.  Because of this fear, my 21-year-old son Doug, took it upon himself to do some repairs around our home. He hung a ceiling fan, installed a new toilet, cleared up the snow and did a number of other chores and repairs around our home. He's never asked for anything in return and most times, he saw something that needed to be done and took it upon himself to do what needed to be done.
Winning helps give me a little lift with our bills, but mostly it gives a little lift to my son and it's a way of my being able to let him know how much his help is appreciated. He's going to school to be an Electrician, so this will help him buy some tools that he needs.
I have used TurboTax for years. I even do my two sons' taxes, besides my own. TurboTax is reliable and is very easy to use, especially the way it easily guides you, step by step. 
Thanks TurboTax for this Little Lift.
Mark, Minnesota
I think everyone will agree last year was a tough year. I know for me personally it was super tough. Spending so much time at home alone and not getting to spend time with friends and family. I missed going to BBQ's at friend's house, meeting someone for a coffee on a Saturday morning…just getting out and being with people. But most of all I miss traveling. I love to explore new places and being home a whole year has been super hard.
I nominated Andrew because we are good friends, and he has a wicked sense of humor. Andrew is always there to add support and crack a joke. He's good at lightening the mood. Winning this sweepstakes will give me a little lift towards traveling in the future. I'm really looking forward to getting back on a plane to a new destination and meeting new people. Now I need to decide where to go.
I've used TurboTax. I really enjoy the ease of the software. It's super easy to use and didn't take me nearly as long as I thought!  
Recognize the Ones Who Gave You a Little Lift
We hope these stories inspire you to take more time to appreciate and celebrate those family members, friends, colleagues, and even strangers who supported you through a challenge, helped you learn something new, inspired you to take on a new project, helped you follow your passion, or just made the past year a little brighter. 
Thank you to everyone who participated in the TurboTax #LittleLifts sweepstakes, and congratulations to the winners! See below for the full list of winners, and their nominees.