Here's the Download on the New TaxCaster Mobile Apps
Just in time for end-of-year tax planning, TurboTax launched its free TaxCaster app available for iPhone, Android and for the first time, the iPad. Updated for tax year 2011, TaxCaster, is a free tax calculator app that quickly provides an accurate estimate of your tax refund so you know where you stand before you file.
Quick, simple, and accurate. Sounds good to me! Just enter basic information about you and your family, your income, and tax deductions to get a good sense of whether you'll owe money, or hopefully, get a nice tax refund when it comes time to file your taxes. Every time you enter information, the refund meter shows you how an item instantly impacts your outcome.
Also, new this year, TaxCaster allows you to input negative numbers if, for example, you need to show a loss. You can also modify your information or do "what-if" scenarios to see how actions may affect your bottom line. This makes it convenient to use the app year-round, especially if you have changes that impact your taxes, like a new child, buying or selling a home, or even adjusting withholding amounts.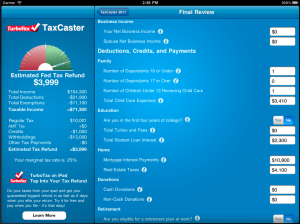 The new app for iPad is optimized with iPad specific features and has a final review that displays all of your information at a glance. For the iPhone or Android app simply click on "details" to see your summary.
The cool sliders help you quickly modify your information by dragging the bar. You can also choose to enter information numerically. And…it's safe.  Simply tap the "clear" button to remove data before closing the app.
TaxCaster features all the latest tax law updates and calculations of tax estimates are 100% accurate based on your input. While TaxCaster is not a tax preparation app, it will recommend the right TurboTax product to file your taxes, based on information you enter.