Congratulations on finishing your taxes!  Now that you've filed your taxes, you're probably wondering where your refund is.  We know you work hard for your money and that it is important to you to get your refund quickly.  Don't worry, we have a simple break down of the e-file process here, so you know where your tax return is and when you can expect your refund: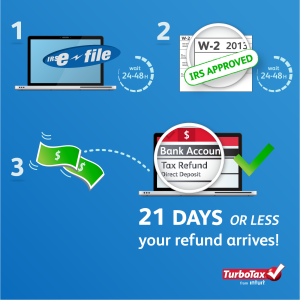 E-file your tax return – Congratulations on finishing taxes, the hard part is over! Now you just have to sit tight and count the days until you receive your refund.
Check the status of your e-filed return – Approximately 24-48 hours after you have e-filed your tax return, you will receive an email from the IRS letting you know that your tax return has been accepted!  If your return was not accepted, visit this FAQ.  If for some reason you do not receive an email, you can check the status of your e-filed return here.
Start tracking your refund –  About 24-48 hours after the IRS accepts your tax return, you can start tracking your refund. The IRS expects to issue more than 9 out of 10 refunds in less than 21 days upon acceptance.  You can track your refund at the IRS Where's My Refund tool or by logging into your MyTurboTax account.
Your tax refund is here – If you chose direct deposit when you filed your return, you'll need to allow 1-2 business days for your bank or financial institution to process it and have it available for you once the IRS has released it. If you didn't choose direct deposit, the IRS will mail you your tax refund check, which could take 6-8 weeks.
Of course times may vary based on your situation.  Click here to see a list of tax forms that the IRS is not accepting yet.