Refund season is in full swing, but with refund season often comes phishing season. You may be thinking about the type of fishing you did on those warm sunny days when you were a kid, but we're talking about tax-time phishing where scammers send you a very real-looking – but very fake – email and try to lure your personal information.
Phishing refers to fake email messages that pretend to be from a legitimate company. The messages are designed to trick the recipient into giving personal information to fraudsters or downloading a malicious attachment. We're seeing a lot of that now. In fact, we typically see a spike in these types of phishing emails during the tax season. We are vigilant about keeping our customers informed and empowered to protect themselves.
At Intuit TurboTax, we place the highest importance on protecting our customers' data and privacy. We are doing our best to stop these phishers and protect our customers. When one of these scams involves our products, the company posts an alert at security.intuit.com to help people separate the fact from faked. The site includes advice on how to protect your identity and your computer from criminals.  You can find examples of phishing emails at security.intuit.com.
Phishing emails can be difficult to detect to the untrained eye. Why? Because the sender will copy logos, headers and other content used in legitimate company emails, but they often leave telltale clues that can tip you off to their true motives. Remember legitimate companies would not ask you to provide personal or sensitive information through email. The IRS also will never communicate or request personal information via unsolicited email. It is important that you do not click on the links, open the attachments or provide any personally identifiable information in response to these emails.
We have created this infographic to help you avoid taking the bait in a suspicious email. Just follow these simple steps to keep yourself protected.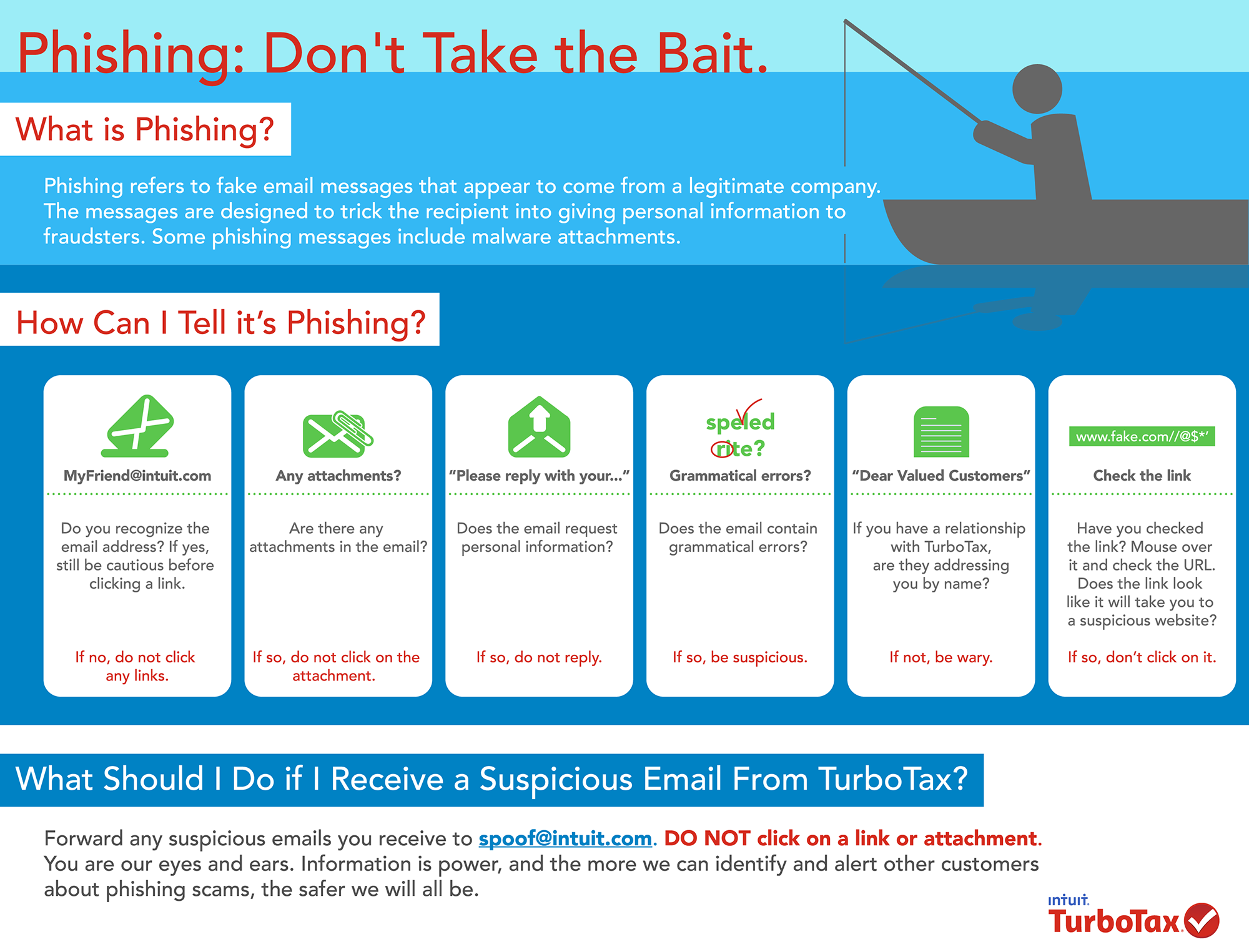 If you do receive a suspicious email, DO NOT take any action other than forwarding the email to spoof@intuit.com. You can protect yourself, and others from being lured. Information is power. The more we work together to identify and alert other customers about phishing scams, the safer everyone will be.