Name of Entry: TurboTax Reviews
Name of company entering: Intuit, Inc.
Category: Energizing
What are TurboTax Reviews?
At TurboTax, we believe the most powerful recommendation for any product comes from a friend or someone you know. This year, TurboTax took that naturally occurring offline behavior to the web by enabling customers to share their tax filing experience with their Friends, as well as customers looking for reviews on TurboTax.com.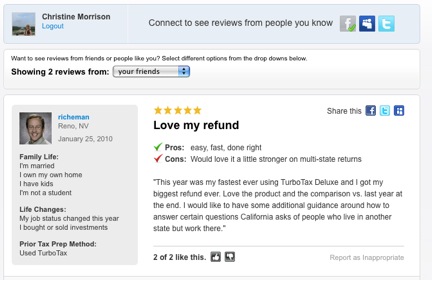 What Makes TurboTax Reviews an Effective Use of a Social Application?
TurboTax is approaching reviews in a new way: taking a fairly "traditional" user generated asset (reviews) and adding in a layer of social networking on top to allow our customers to be our best sales people- and it's working). TurboTax provided the platform for customers to be the gasoline in a reviews engine filled with over a hundred thousand of unbiased user-generated reviews on TurboTax.com. After customers contributed their TurboTax review, they were able to share via a "Publish to Facebook" option. At the end of their TurboTax tax filing experience, customers also had another option for sharing their excitement about finishing their tax return via "Friendcasting," the act of posting a short blurb to your Facebook newsfeed.
TurboTax Reviews drove the following business results:
• "Friendcasting" is four times more engaging with a 30% higher conversion rate than banner ads
• Sharing on Facebook drove acquisition with a 25% higher new customer mix than online advertising
• Customers posted more than 100,000 unbiased reviews on TurboTax.com
• TurboTax Web units increased by 18% in 2010

Learn More About TurboTax Reviews:
Read another perspective on TurboTax Reviews.