Imagine sitting on the train in your daily commute, grabbing a Saturday afternoon coffee, or killing time at the airport and being able to start and finish your taxes in just minutes.  Sounds like a cool concept, but now doing your taxes on the go is a reality with SnapTax, a new iPhone app coming your way in January. Update: Find out more about the TurboTax SnapTax iPhone app on Intuit Labs now that it's live.
Available exclusively for California residents this year, SnapTax uses optical character recognition (OCR) software to allow you to prepare and e-file federal and state returns entirely from your iPhone. It's simple.  In fact, you can file your taxes in just three easy steps:
1. Snap a photo of your 2009 W-2 with your iPhone: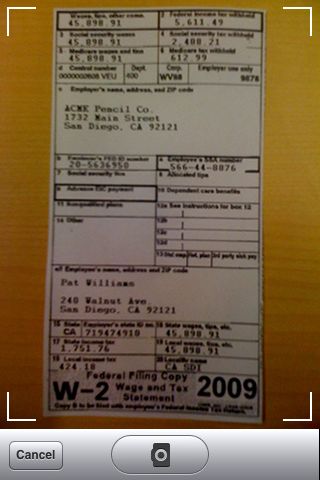 2. Get your maximum refund by answering a few simple questions:
3. Review your tax information, then e-file – all within a matter on minutes: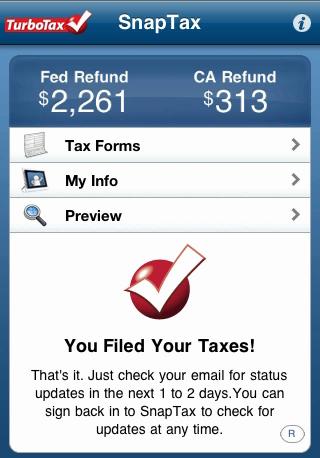 Amir Eftekhari, app guru and engineering manager for SnapTax at TurboTax, weighs in about revolutionizing the way people do taxes. "At TurboTax we are always looking for ways to make it easier and more convenient for taxpayers to get their maximum refund.  With SnapTax, we've made it possible for taxpayers to easily do their taxes on the go in minutes."
SnapTax will be available in the App Store in mid-January (once the IRS opens e-file) for $9.99, which includes federal and California state preparation and e-file.   To get the most out of SnapTax's innovative OCR capabilities, we recommend using it with the iPhone 3GS.  Also, check out what others like TechCrunch are saying about SnapTax so far.
If you live in California and have a simple return check it out, and leave us your feedback in the comments. We'll give five random California commenters a free download.