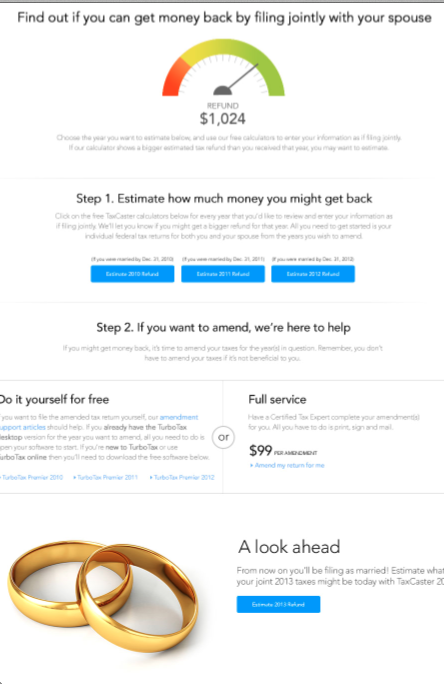 As a result of the Supreme Court decision to strike down the Defense of Marriage Act (DOMA), legally married same sex couples are now able to file joint tax returns.  As of September 16, 2013, legally married same-sex couples must file their 2013 federal income tax returns using married filing jointly or married filing separately.
This new law allows people in same-sex marriages the same federal tax benefits previously only available to heterosexual marriages, enabling them to take advantage of valuable tax credits and deductions, which in turn may reduce their tax liability.
As a part of this ruling, same-sex married couples have the opportunity to go back and amend their last 3 years tax returns, if they have money coming to them.   However, most people don't know whether it is financially beneficial to amend their tax returns or how to find out.
To help same sex married couples get back every dollar they deserve, Intuit TurboTax has developed a new online decision tool so you can:
Find out if you're entitled to a bigger tax refund for previously filed tax returns by filing jointly with your spouse and easily estimate your 2010, 2011, and 2012 federal tax refund as a married couple.
Easily amend any of the past 3 years tax returns for FREE with TurboTax, if you have a federal tax refund coming (remember you don't have to amend if its not financially beneficial).
(If needed) have a certified tax professional from TurboTax amend your federal tax return for just $99.  Simply print, sign and mail.
You can check out TurboTax new online decision tool now to see how much money you may be able to get back.  Who knows?  You may be able to take advantage of valuable credits like the Earned Income Tax Credit, which can be worth up to $6,044 for 2013.