Did you know you can use your smartphone or tablet to kick-start your tax return?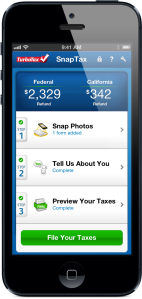 Whatever your tax needs are, TurboTax has the right product for you with its iOS and Android apps:
SnapTax – Available for iOS and Android devices, TurboTax SnapTax lets you begin your tax return by simply snapping a photo of your W-2 form with your device's camera. SnapTax is designed for taxpayers filing a 1040EZ return and has expanded to 1040A, to include those who claim dependents or the earned income tax credit (EITC). After answering a few simple questions, you can e-file within the app or securely transfer your tax information for e-filing to TurboTax Online.
TurboTax for iPad – A free app that lets you prepare and file your tax return without getting off the couch. Using TurboTax for iPad, you can snap a photo of your W-2 (iPad mini and iPad with Retina display only). From there, you'll get step-by-step guidance and free one-on-one tax advice from tax experts as you prepare your return. When you're done, you can securely e-file—all from your iPad!
TaxCaster – A free, easy way to get a quick estimate of your tax refund. Once you enter some basic information, TaxCaster estimates your tax refund amount using the TurboTax tax calculator. TaxCaster is available for iPhone and iPad as well as Android devices.
MyTaxRefund – A free app available for iPhone and iPads and Android devices. After e-filing, you can use MyTaxRefund to easily track the status of federal and state tax returns. MyTaxRefund tells you when to expect your federal refund payment based on IRS projections.
All the TurboTax mobile apps are free, and e-filing starts at no cost for simple federal tax returns. Learn more about TurboTax mobile apps and e-filing pricing, or visit the Apple iTunes, Google Play, and Amazon app stores to download.