Listening to customers is our DNA. Since Intuit was founded 25 years ago, we've taken pride in learning from customers and making changes based upon what you tell us. If you read this blog, it's no secret that we're pretty involved with the opinions, ideas, and concerns of you and the rest of our customers. We recently integrated customer feedback to better the TurboTax feedback community itself, the TurboTax Inner Circle.
Although the web has evolved quite rapidly in the five years since Inner Circle was founded, the Inner Circle remained static. The past year, customers have increasingly requested features to make the site more dynamic, easier to find content, and have fewer barriers to sharing their feedback. We made those changes with our redesign that launched last week and want you to be a part of the evolution. We'd like to cordially invite readers this blog to join our redesigned Inner Circle.
It's now easier to share your ideas and feedback with us and know where it stands in the implementation process. Here are a few of my favorite new things we've changed.
1. It's all about relevancy and flexibility. The homepage shows the most recent ideas and comments so hearing what other members think are only a click away versus being buried under navigation tabs. Also, you can filter until your heart's content in the Idea Exchange to see top and most recent ideas, or simply view your own.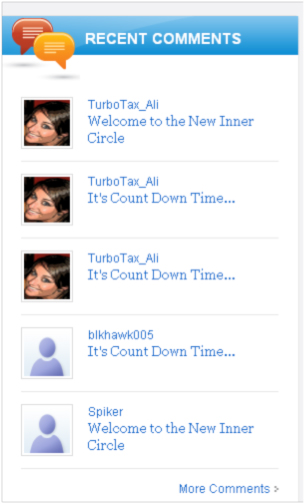 2. In the idea exchange Member ideas widget, you'll be able to see what we're working on, what we're considering, and what you've helped us make a reality. We went for simplicity. You share your ideas with us, and we share ours with you. It's as simple as that.
3. Prior to the redesign we learned Inner Circle members were having a hard time parsing through comments to find "official" responses from TurboTax staffers. Comments and responses from TurboTax now show up in blue, so with a quick scan you can read what the staff has to say.
For those who aren't familiar with Inner Circle, let me take a step back and explain what it's all about. The TurboTax Inner Circle was established over five years ago, with the intent of giving our customers an outlet to share with us. Inner Circle is a community of TurboTax customers who have the chance to work alongside our developers, product managers, and marketers to improve the overall TurboTax experience and beyond. This year we changed 35 things in TurboTax based upon Inner Circle feedback. If you used the flags feature, you've used an idea that came directly from Inner Circle feedback.
Being a member of Inner Circle you have the chance to:
• Give your open honest opinion – good, bad, or indifferent
• See your feedback enacted
• Influence a product to help millions of other customers
• Get sneak peeks at the new stuff we're working on and shape how to make it better
We're kicking off the next phase of our evolution now. We would love for you become the newest member of the Inner Circle. Won't you join us?
Warmest wishes,
Ali McCourt