Welcome to college! Fall semester is well under way, and between books, beer and dates, you're probably hardly realizing how time is already flying.
Like most students away from parents for the first time, your priorities are finding your classes and navigating your courses, and balancing this reality with adapting to the social scene without adult supervision (what, no curfew?). Good times are ahead. You'll also start to notice a variety of attitudes about money among your new friends. Some aren't concerned with finances because they don't need to be thanks to an allowance from their parents. More aren't concerned, although they should be, because they don't have full financial support. A number are quite concerned about money because they plan to work in order to afford to attend.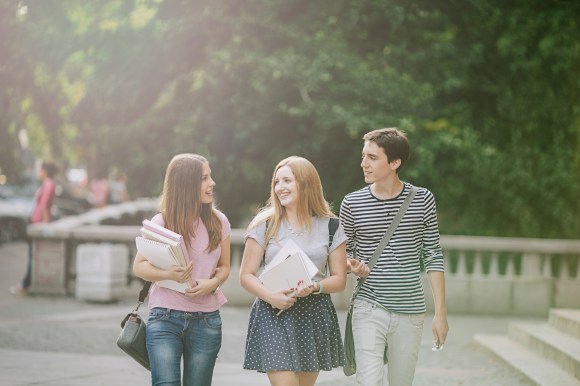 No matter where on this spectrum you fall, college is the perfect opportunity to establish good financial habits.
Start by establishing the right bank accounts. Find a bank with branches close to campus and close to home. Establish a checking account here for convenience. If you are working while in school, use direct deposit to automatically transfer your income to the bank so you're not tempted to spend it all on dorm room parties. With a checking account, you'll be able to start a high-yield savings account.
If you have a job, whether only on breaks and vacations from school or throughout the school year, think about your taxes. Download the 1040 form and instructions from the IRS website. Read through the information to get an idea of what you'll need to provide. When your W-2 form arrives from your employer, you'll be ready to complete the form and, in most cases, receive a refund.
Consider using a portion of this income to save for retirement. As you're about to begin a career, it's unlikely that ending a lifetime of labor is on your mind. This is the perfect time to establish a Roth IRA, though. You will benefit from decades of tax-advantaged investing.
As a student, you can benefit from a tax credits to reduce the amount of money you owe the government. The American Opportunity Tax Credit or Hope Credit is an incentive designed to cover a portion of your tuition and fees paid in 2009 and 2010.
Watch out for credit card offers. You've seen them around campus. Banks set up display tables and booths, offering free gifts like Frisbees and t-shirts to anyone who completes an application. These credit cards may not be the best choices; in fact, avoid credit cards all together. If you must use a credit card, research student credit cards fully. Some offer benefits like cash back. Without a solid source of income, credit cards can wreak havoc on your future quickly.
Save money whenever possible. As a student, businesses want to have you around. You're likely to recommend places to your friends, so some companies are willing to offer you discounts to get you in the door. Take advantage of the discounts every time. If you don't see a student discount advertised in a store, restaurant, or other establishment, just ask. Your student ID is a powerful piece of plastic. Along with discounts, look to avoid buying anything new. Textbooks, dorm furniture, and electronics can all be found in used but operational condition.
Starting several good financial habits now, while in college, will help set you up for a successful financial life when you graduate. Many graduates are trapped in debt when they enter the workforce, so with a few strong decisions now, you'll be significantly ahead of the game later.