There are only about 10 hours a day that the @TeamTurboTax Twitter account is silent. But it isn't because of lack of desire to chat with customers. It is actually because the 80 plus team members helping out need to sleep. Our tax and tech experts are standing by to help you on Twitter. Intuit investigative blogger, Christen Wegner Kelly, sits down with one of our superstars on @TeamTurboTax, Carlos Munoz.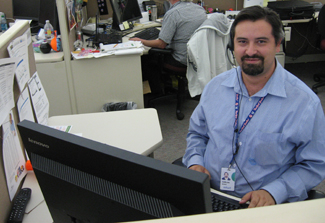 The @TeamTurboTax Twitter account is a way for TurboTax customers, or those considering TurboTax, to get the help they need. What started as a six-person team last year has grown to more than 80 eager employees looking to wow some customers this tax season.
The growth in eager employees however, isn't the impressive part. The stats are. Since tax season started, employees have interacted with more than 1,000 customers on Twitter so far this tax season.
Carlos is a first-time member of @TeamTurboTax who has had more than 144 interactions with customers on Twitter in less than a month. His passionate approach to making sure customers get what they need on Twitter is amazing considering he is also juggling his day job at TurboTax. Learn more about what it takes to help customers on Twitter like Carlos does on @TeamTurboTax.
Christen Wegner Kelly: What is your background and do you have customer service training?
Carlos Munoz: I am born and raised in Tucson (Ariz.) and am a single father of three kids. I have worked in the technology and customer support industry in the past but most recently was a paralegal.
Christen: What is your role at Intuit?
Carlos: I am a seasonal employee brought in to help with customer support during the busy tax season. My background really helped when it came to making sure customers are happy because I know how to give customers as much help as I could. The great thing is, that is really what this tax team is setting out to do as well, so it is a nice connection.
In my day-to-day work I am a support agent which means I engage with several customers at once. I am usually on instant messenger and on the phone at the same time.
Christen: What made you decide to join the @TeamTurboTax team?
Carlos: When I was going through my customer service training we got a quick training on how the tax team uses Twitter. I was one of the folks they tapped to help since I have had my own Twitter account for years.
The great thing about my job is that I am already engaging with tax customers. So the @TeamTurboTax is just an additional channel for me to watch. Most customer service agents have to be able to multitask, and that comes naturally to me now. At my last customer service job I learned how to multitask and juggle work so that you aren't short changing any customer.
The great thing about Twitter is it is a little more lenient because you don't have to answer immediately after they post something like in a chat format. You can take a minute or two. So if I am on a call I can work with that customer for a few minutes and then respond to the Twitter post.
I am using the @TeamTurboTax Twitter feed about an hour or two a day.
Christen: What do you like best about helping customers on Twitter?
Carlos: The funny thing is, I didn't really understand the extent of the help I was going to be giving customers in the beginning. But we are doing something really unique at Intuit. We are able to be really proactive out there on Twitter because we are interacting with customers who typically just wanted a place to vent. Most likely they weren't going to call TurboTax customer support and were going to give up. Our role is to go out there and find out what is wrong.
Within 10 minutes, often I am talking to them about their issue and getting it resolved. And since we sought them out, it is really a great moment to see how happy they get after we solve their issue.
Christen: Can you think of a favorite customer interaction you've had so far this tax season?
Carlos: Recently I spoke to a woman who was complaining online saying TurboTax wasn't letting her e-file. Within a few minutes we responded, figured out what her problem was, and resolved it. Afterwards, she was tweeting how much she loved TurboTax.
She had about 1,500 followers so it was really great to see her tweets and think that I helped one person but could have possibly helped hundreds of her followers.
This is what it is really all about—customer service. And what is the coolest part is that all of this starts with us being proactive.