Last week we kicked of TurboChat, a live streaming video chat session we'll be hosting on our TurboTax Facebook Page bi-weekly this tax season with CPA and VP of TurboTax, Bob Meighan. We've seen a ton of great questions, notably tons of good ones regarding the Homebuyer Credit and Child Tax Credit, and we want to provide you with even more information when you need it this season. Our Fans told us it was important to have live chats at different times throughout the tax season, including some evening times. So, we want to give Bob plenty of questions to answer Feb. 4, from 3-3:30 PST/6-6:30 EST.
So how do you get involved? It's easy.
Visit our Facebook Page and click the TurboChat tab. You can visit anytime between now and Feb. 4 to enter your question, or come back to join us live Feb. 4. Bob will answer questions in a video format, streaming live.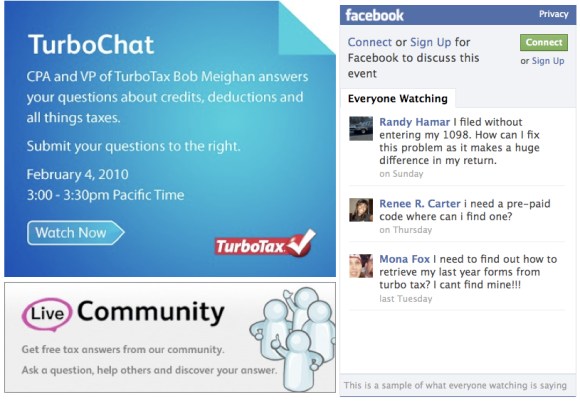 Once you're on the TurboChat tab, type a tax question in the "update your status about this event" box and post. Bob will address it Feb. 4!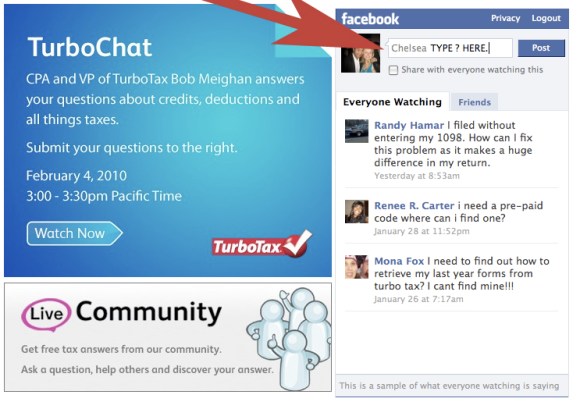 Want more help this tax season? Don't fret, you've got options.
Our next TurboChat will take place Feb. 11. Mark your calendars!