Are you newly engaged? With Valentine's Day around the corner, lots of folks will be popping the question or making plans to take that next step. Though this means your tax filing status may change among other things, there's plenty of additional stuff to figure out too. As you get excited about your wedding and future married life together, don't forget to revisit some important basics. Sad to say, most couples spend more time planning their wedding than their financial future. To avoid conflict later, it is time to have some serious money talks, the sooner the better.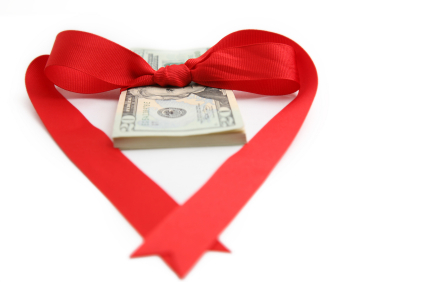 Are you kidding? With the euphoria of a new engagement augmented by the romance of Valentine's Day, what couple could imagine that they would ever fight about money? Yet the most common conflicts in a marriage are over money, and nothing can be more damaging to marital bliss. Here are seven must-have discussion points:
1. Control. As you go through life together, who will be in charge of the money? Whether or not you decide to combine bank accounts, you must work together financially to succeed. One spouse might write the checks and the other might plan the investments, but each understands what the other is doing. Frequent communication about money matters will keep you working together and prevent the shock of one spouse spending the savings on a frivolous purchase.
2. Your financial plan. Both partners should agree on their near-term and long term goals, and work together to fashion a budget, a savings plan, and an investment strategy to meet those goals.
3. Debts. Your attitudes toward debt, both past and future, can throw a monkey wrench into a marriage, so talk it out. Each of you should know how much debt the other is bringing to the marriage, and together you should devise a plan for paying off the debt. Whether it's cut some expenses by switching to free versions of things you pay big bucks for, like choosing a do-it-yourself free tax preparation option over paying someone to do your taxes, or simply cooking more at home, together you can find ways to save.
4. Credit scores. If one of you has poor credit, it can scuttle your plans for future joint loans for a car or a home. Poor credit is also a sign that one person has money management problems. Discuss past mistakes, and work together towards improving your credit.
5. Income. Sit down together and look at pay stubs to determine how you will support each other and what quality of life you realistically can afford together. If one of you has steady income and the other's income ebbs and flows, make a commitment to save during the flush times to create a reservoir to tap during lean months.
6. Other obligations. Is your future husband helping his needy mother financially? Does your future wife give money to her ne'er-do-well brother? Does one of you tithe to your church? Talk in advance about whether you both feel comfortable continuing these patterns, and if not, strategize how things can change. The last thing you want is the money troubles of needy family members leading to all-out war on the home front.
7. Financial security. Life doesn't always continue smoothly, so you'll need an emergency fund, insurance policies, wills and retirement plans. Do you have enough life insurance to cover lost income if you die? And once you are married, you'll want to change the beneficiary on your retirement plans and life insurance and update your wills to name your new spouse as beneficiary.
Marriage is romantic, but it is also financial union. Married partners are a financial team, and the rules for financial harmony are much like the marriage vows, for better or worse, richer or poorer. Sharing finances requires compromise and trust, so begin today by starting a conversation about money. It will put you miles ahead on the road toward a long and healthy marriage.