We all breathe a little sigh of relief once the tax deadline has passed. Taxes. Are. Done! To celebrate, we asked you – our awesome TurboTax community – one of our favorite questions: "How are you spending your tax refund this year?" The results are in!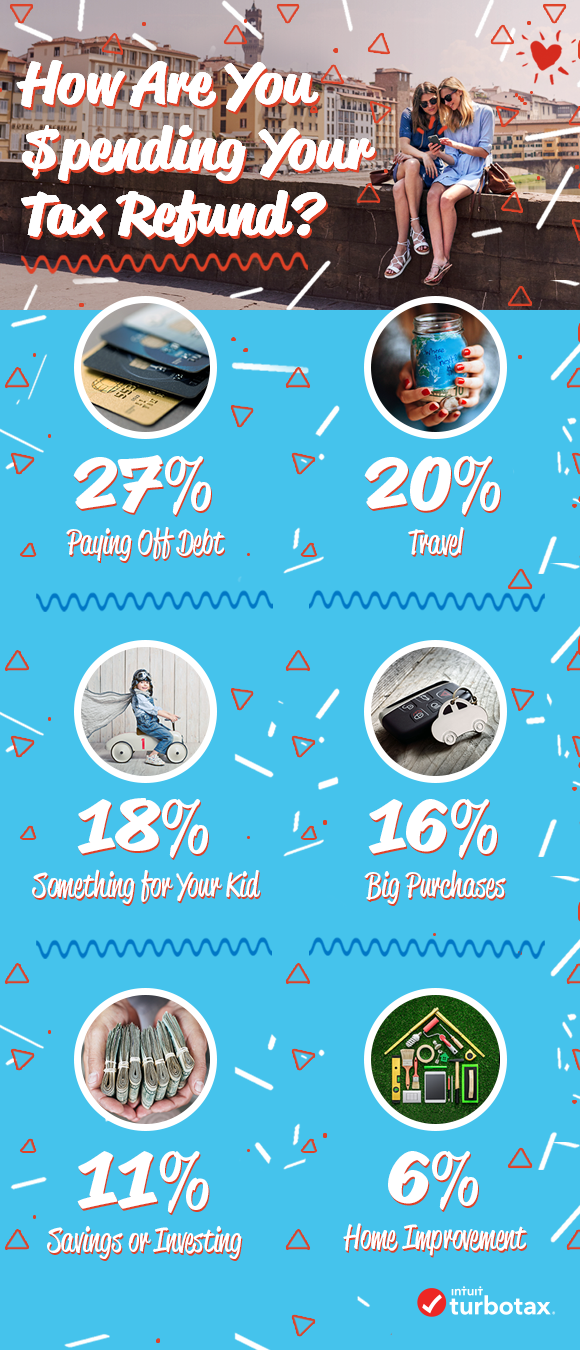 Whether you're paying off the credit card bills, or adding that extra cash to your next tropical vacation, maximize your tax refund with these financial tips to get the biggest bang out of your buck.
Paying Off Debt
Prioritize your most important bills, including utilities, transportation, insurance and your rent or mortgage. From there, start building out your budget with mobile apps like Mint. Budgeting apps, software and services can help you find financial enlightenment and empowers you to maintain your progress.
Traveling
You can also save big by bidding for your hotels. Priceline won't tell you where you're staying until you win, but there are ways you can narrow down things beforehand. Or try exploring other options like Airbnb. If you're planning a vacation and have  little ones, it may be nice to get an apartment or house with a kitchen!
Something for the Kids
Good news! That summer camp your kids have been dying to go to? It might just be tax deductible! Here's the scoop: If you send the kids away to the mountains for a week, you won't garner a tax deduction. But send the kids away for the day, and now you are talking tax savings in the form of the Child and Dependent Care Credit, as long as your child is under the age of 13(no age limit if incapable of self care) and you are sending them so you can work.
Big Purchases
Looking to splurge on something special with your tax refund? Don't feel bad if you spend a portion of your tax refund on that item you've had your eye on! Don't forget to look online for special pricing and sales! You'll save money on your purchases and experience less stress for your bank account.
Savings and Investing
 No matter the time of year, it's smart to to make sure you're working toward your financial goals. If you're looking for a painless way to save money every month, a good place to start is reviewing and maybe cutting a few of your monthly subscriptions.
Home Improvement
In the summer, many of us take on home improvement projects, ranging from minor repairs to major remodeling. Although tax credits for the installation of new air conditioning systems expired at the end of 2016, tax credits for the installation of solar systems are still available!
Now that it's summertime and the livin' is easy, we're taking this time to brush up on our Self-Employed tax facts. Are you a #SelfMade be-your-own-boss filer? Do you know what's actually deductible? Test your Self-Employed knowledge here!