If you haven't filed yet, you are not alone. In general, people who are due refunds rush to file early in the year. As the April 17 tax deadline approaches, there are many taxpayers who haven't filed because they think they may owe money. If you are one of those people, here's my Number One Tax Tip: file your tax return by the tax deadline.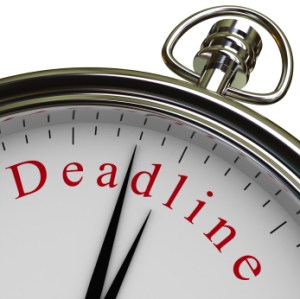 File an extension – Some people automatically are given extensions. If you live and work abroad, you have until June 15 to file, though your taxes are still due April 17. If you are serving in Iraq, Afghanistan or other combat zones, you have until 180 days after you leave the combat zone to file and pay your taxes. If you live in an area recently affected by natural disasters, you may have until May 31 to file and pay.
If you really need extra time to prepare your tax return, file an extension by April 17 to request  until October 15 to avoid nasty 5%-per-month penalties for late filing and late payments. But remember, filing an extension gives you extra time to file, but not to pay, so it isn't a solution if you can't pay your tax.  Plus, once you enter your tax information you may be entitled to tax deductions and credits you didn't know about so you may not even owe.
When you file, pay as much as you can with your tax return to avoid penalties and interest. As for the rest, the IRS feels your pain and is willing to work with you to devise alternate payment options. Here are a few:
Fresh start for the unemployed – In March the IRS announced a new Fresh Start initiative. If you were unemployed for 30 days or longer in 2011 or 2012, they will waive the late payment penalty for six months. Form 1127-A (Application for Extension of Time for Payment of Income Tax for 2011 Due to Undue Hardship), which you can download from IRS.gov, will give you until October 15, 2012 to pay the taxes and interest that are due for your 2011 tax return. If you are self-employed and your business experienced at least a 25% decline in revenue due to the economy, you may also qualify for this Fresh Start.
Installment payment plan – If you owe $50,000 or less, you can request a payment plan by going to IRS.gov and filling out the Online Payment Agreement you'll find there, or call  800-829-1040. If you owe more than $50,000, you will need to complete a financial statement to determine the monthly payment amount for an installment plan.
Hardship cases – If you will become destitute if you have to pay the taxes, you can fill out Form 911, Request for Taxpayer Advocate Service Assistance, to ask the IRS to delay tax collection. This isn't your best option, since you'll still be racking up penalties and interest and the IRS can file a lien against you.
Offer in Compromise (OIC) – You may be able to make an offer to settle with the IRS for something less than is due. You'll have to fill out Form 656 and show that you are unable to pay, for example, the amount owed is higher than your total assets and income.
If none of these options appeal to you, there are many places you can turn to get the money to pay your taxes, but make sure you find out about the tax consequences for some of them. Home equity loans, 401(k) loans and borrowing on cash value life insurance are possibilities for some. Credit cards can be used, though you will be charged a processing fee.
If you can't pay your tax, don't bury your head in the sand — hiding from the IRS is not a successful strategy and may cost you in the end. Failure to work with the IRS may incur stiff penalties, result in enforced collection action, and in extreme cases the end result could be criminal penalties and even jail time.