Many of us have fallen into the bad habit of waiting until the last minute to get things done . . . especially when it comes to our taxes. Taking the time to prepare and get organized is essential to reducing your tax season stress.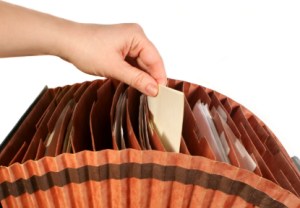 Even if you plan on filing a simple return with the standard deductions, preparing and organizing will help streamline your tax process.
No, it's not a case of "easier said than done". All you need is to follow these four simple and effective tips and ideas to help streamline your tax-season preparation.
1.  Where to Begin
One of the most prominent reasons Americans drag their feet when taxes are on the horizon is that they feel overwhelmed because they have no idea where to begin the organization process. When in doubt, make a list.
To begin your tax organization and preparation efforts, draw up a list of documents and papers you might need. The best way to start your list is by reading through your tax returns from the previous years, taking into account how you filed, which deductions you took, and which documents were necessary in those previous years.
Once you have your list and begin collecting your necessary documents, make sure to arrange them by category. It will be less confusing if you keep all of your deduction paperwork, like the interest on your mortgage and your property taxes, separate from your income, exemptions, and credit documents.
2.  Sort Out the Past
There's nothing worse than filling out your tax forms with last year's paperwork. But you would be surprised at how many Americans forget to remove their old files, receipts, and bills.
Yes you should keep all of your paperwork together, but you should categorize each tax return (and the supporting documents and receipts) by year. If you keep your past returns, that's good. If you keep all of your past returns together in one big box with just a few paperclips and sideways layering, that's not so good.
Before you get too involved in this year's taxes, take the time to organize your past returns into separate folders labeled by the year. Make sure that none of last years papers, bills, or receipts find their way into the folder for your current tax year.
It's also a good idea to make electronic copies of all of your tax returns and supporting documents, past and present.
3.  Everything Has a Space
Now that you've created a list of the documents that you'll need based on previous tax returns, and categorized those previous returns by year, it's time to create a space to sort your tax documents for the current year.
The best way to plan ahead and organize your paperwork is to create a filing system that you're comfortable with (and that will keep things in order). If you're comfortable with filing your paperwork in a shoe box, you might want to run down to the store and pick up an accordion folder.
Make it part of your shopping list to purchase a new filing container so you can get an organized start on your taxes. Clearly mark each category and store your filing system in a place where it's easily accessible. After all, if you can't get to your tax folders, you won't sort your paperwork.
Again, it's a good idea to make an electric copy of each document as you categorize.
4.  Be Vigilant
It's easy to fall into the procrastination trap. After all, the tax deadline always seems so far away. But, as we all know, it may seem like a long way off, but April comes fast.
Don't give up on organization, preparation, and control over your own taxes. In the end, you'll appreciate the work and effort you've put forth.