The 2013 tax season is coming to an end, and if you haven't had the chance to get your tax return done, April 15, 2013 is the deadline to file individual tax returns. This is also the date that if you owe any money to good old IRS, you should write them a check by.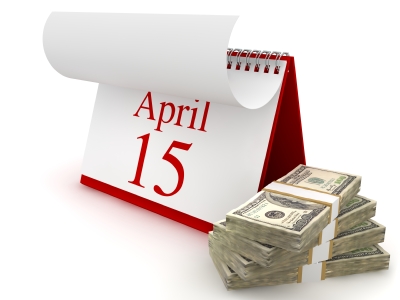 Here are 4 tips to keep in mind as the April 15th date nears:
1.  Face your tax fears.  You will not know exactly how much you owe, or if you will get a tax refund, unless you actually sit down and prepare your tax return.  The first step to understanding your tax circumstances is to gather your tax information and log in to TurboTax to figure out your tax liability, if any.  You might be surprised to find many deductions and credits that you may qualify for to help you lower your tax burden and get tax refund.  In any case, knowing your tax "prognosis" will allow you to create a plan for the next step.
2.  If you can't pay, still file on time.  Many taxpayers are overwhelmed because they owe money on their tax returns, but filing on time can be a very important step to limiting your tax liability. According to the IRS, the failure-to-file penalty is 5% of the tax owed for each month up to five months and can be as much as 25 percent of your unpaid taxes. You can use TurboTax to help you complete your tax return and file on time. The IRS also offers installment payment plans that you can establish to help you pay your taxes.  In order to pay the least possible amount, you should still file on time.
3.  If you can't file on time, file an extension and pay on time.  A good amount of the penalties and interests that the IRS charges are based on the amount of money that you owe. An extension to file is not an extension to pay.  If you know a fair estimate of how much money you will owe in taxes but for some reason cannot file, you should still send in a check to the IRS by April 15th along with an Automatic Extension to file.  The IRS says that as long as you pay 90% of your bill before April 15th and the rest by the extended deadline, you will not face a failure-to-pay penalty.  In about 5 minutes TurboTax can help you get 6 more months to file your taxes (but not to pay).
4.  April 15th, 2013 is also the deadline to claim a tax refund or file an amendment for your 2009 taxes. The end of the tax season is also a very important date for people that have not filed their tax returns and are also eligible for a tax refund. The IRS will only refund to individuals up to three years after the initial filing date. This means that if you have not filed your 2009 tax return and you are entitled to a refund, you must act quickly to make sure that the IRS can send you your hard earned tax refund.
April 15th is also the deadline for any amendments needed for your 2009 tax returns; this deadline may be later if your income tax payment for the 2009 year occurred less than two years ago.  Unfortunately e-file is not available for prior year returns, but if you still need to prepare a 2011 or earlier tax return, you can purchase  prior-year software and install it on your computer.
It doesn't matter what tax situation applies to you.  TurboTax has the tools and the help you need to make this income tax filing season a smooth process.  Don't be afraid to ask questions and to use TurboTax to help you file your income tax return before it is too late.  Only TurboTax allows you to ask tax experts who are CPAs, IRS Enrolled Agents, and tax attorneys questions while you prepare your tax return, free.