Now that you filed your taxes, you may be wondering, "Where's My Refund?".  I often wonder how we ever made it before e-file, when we mailed our paper tax returns and had no idea if they ever made it to the IRS.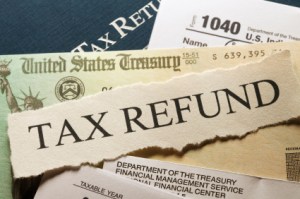 Now we are able to receive confirmation that our tax returns were accepted and receive tax refunds quicker than we did in the days of paper filing, despite IRS processing delays.  Although the IRS has a refund cycle chart with estimates of when your tax refund may be deposited or mailed, per the IRS those dates are strictly estimates based on normal  processing.
You may have heard that the IRS is experiencing some processing delays. TurboTax has been working hard to get an update from the IRS on e-filed tax returns so we can give you the latest information regarding IRS delays.
We just received the following update from the IRS and we wanted to make sure you received the most up to date information.
Some taxpayers who filed electronically and received an acknowledgment from the IRS are concerned when they visit "Where's My Refund" and are told that IRS has no information regarding their tax return.
The IRS informed us on February 10 that this is a temporary situation and it should be resolved in several days.  At that time, you will be able to get an expected refund date when you visit "Where's My Refund."

This is an IRS issue that impacts tax returns regardless of who sends them to the IRS. This is not a TurboTax issue.

If you have received an acknowledgment of your tax return from the IRS, then the IRS assures us they have received your tax return and are processing it.

Information on the status of your tax refund will be updated in "Where's My Refund" once your tax return processes. This is a temporary situation, and the IRS expects to resolve the matter in a few days.

IRS expects the vast majority of tax refunds to continue to be issued
within the historical range of 10 to 21 days.
The IRS also updated its' Where's My Refund site with additional information in a FAQ that may help answer your questions.
We want to quickly share any updates we receive from IRS because we know some of you may be waiting for  your tax refund status and estimated direct deposit date.  We will continue to keep you up to date on any more additional information from the IRS.