If you're planning your wedding this year you may be amazed at how expensive it can be – the venue, the dress, the flowers, the guest list and so on. With some planning though, you can have the wedding you've wanted and cut costs on your wedding expenses. Depending on your situation you may also get to deduct some of your wedding costs.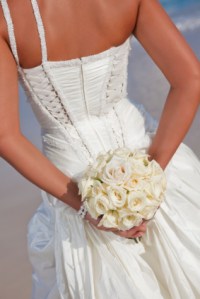 Charitable Donations
While it is your special day that you'll never forget, have you thought of how you can make it a special day for others by donating? For many people, their wedding wardrobe, decorations, and other items are only used for one day and then packed away, sometimes forgotten in the attic. Why not see if you can part with a few of these dear items afterward and support worthy causes close to your heart?
Wedding Dress, Flowers, and Food
While you won't get a tax deduction for buying your wedding dress, you can donate it and deduct it as a charitable contribution, provided it's to a qualified organization. Make sure you keep all receipts and documentation for when you file your taxes. Please note, if the value of the items you've donated is more than $5,000 you must also get an appraisal.
If you think you may have plenty of food leftover from the reception, consider having someone take it over to a local homeless shelter. Ask them to get a receipt if possible. You could also donate the reception flowers to the shelter – it can brighten others' day along with giving you a deduction.
Wedding Venue
Where you get married may mean that your venue payment could be tax deductible. Some possible locations to consider on your list of places to tour include your church, state park, or your local museum. Check with your venue to see if you qualify.
Thoughts on Weddings and Tax Breaks
Of course your wedding day planning shouldn't just be focused on getting the most tax deductions you can; however it doesn't hurt if you can do some good and get a tax break.  Also, don't forget if you give any generous donations, you can track them with ItsDeductible year round.
I'd love to hear your thoughts. How many of you are getting married this year? Have you decided on the venue, the dress, and the guest list yet? What tax deductions do you think you'll qualify for?