Starting to hear more about health care reform? You're not alone. And you may be hearing some conflicting information about what you need to do and when you need to do it.
At TurboTax, we're here for you every step of the way so we've got the basic facts that you need to know.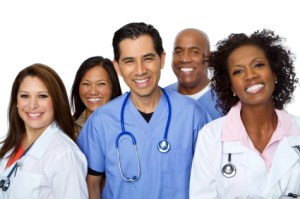 What is health care reform?
Today, there are an estimated 48 million Americans without health care coverage. The Affordable Care Act, or health care reform, is designed to provide cost-effective health insurance to those who are uninsured.
Health care reform includes a new tax credit for an estimated 20 million low-to-middle income Americans. The tax credit will help people purchase affordable health care who otherwise would be unable to afford it.
Here's what you need to know right now:
The requirement to purchase healthcare does not impact your 2012 tax return. Phew! You don't need to do anything right now.
But you should know that your 2012 tax return will help determine your eligibility for an insurance subsidy from the government, which will help you purchase health insurance under the health care law..
When you file your 2013 tax return you still don't need to do anything.  The requirement to purchase healthcare does not impact your 2013 tax return.
Beginning in Oct. 2013, uninsured Americans will be able to enroll in a health plan through state and federal exchanges.
In 2014 everyone, except for a few, will be required to purchase health insurance or face a tax penalty.
There are a few groups of people who will not be required to get health care coverage or pay a penalty. This includes those with income below the IRS requirements for filing taxes, those who qualify for religious exemptions, and members of Indian tribes.
You can rest assured that TurboTax is always up-to-date with the latest tax laws. We'll let you know what you need to do in the future to help you keep more of your hard earned money.
And if you have questions, call us and an experienced TurboTax tax pro will take care of you. Only TurboTax lets you talk to CPAs, enrolled agents and tax attorneys while you prepare your tax return, free.