Starting today, almost an entire month earlier than last year, taxpayers with taxing questions can get an easy – and free – answer from a TurboTax tax expert.
TurboTax tax experts will be on the phones to answer one personal, tax-related question for free through Jan. 31 at www.FreeTaxQuestion.com. Anyone can submit a question – whether you're a TurboTax customer or not. Simply submit a tax question online, and you'll receive a personalized, one-on-one call back at a time you request.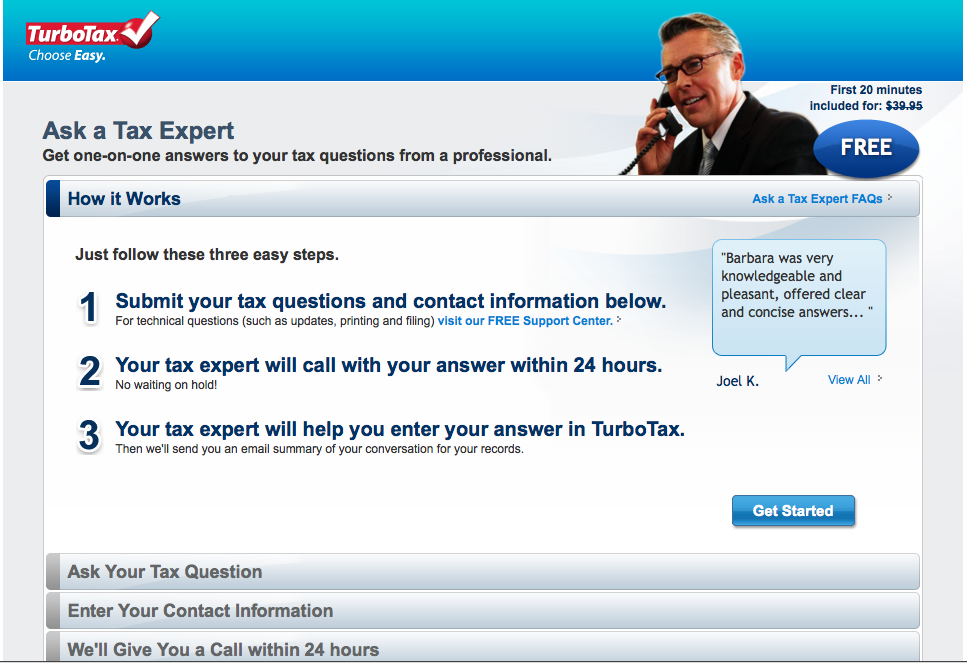 TurboTax is moving up its annual free offer into November to help taxpayers get a jump on last-minute tax deductions or to better understand what they can do now in the face of pending tax legislation.
Whether someone has had a baby, lost a job, or simply wants to know where to enter information in tax software, TurboTax experts are here to help answer the top questions on taxpayers' minds
Our experts are IRS-Enrolled Agents, Certified Public Accountants and Tax Preparers with advanced education and experience in tax law and return preparation.
This is the fourth year that TurboTax has offered Free Tax Question.
There's no purchase necessary to participate, but it is subject to availability and for a limited time, so be sure to take advantage of the free offer with your taxing question.
Answers Anytime.
If you happen to miss out on the free tax question or don't have a question now, then be sure to check out TurboTax Live Community.  If you've never experienced Live Community, you're in for a treat.  It's fast, easy and free.  The Live Community offers year-round, anytime access to online answers from a community of millions of TurboTax customers and tax experts.  Just type in a question and immediately find answers.
Giving taxpayers free options for their questions is just another way TurboTax makes it easy for people to get their biggest refund possible.