Whether you want to pay for your morning coffee, kill some time with angry birds or check your latest financial situation (can I really afford those boots?), apps are becoming a part of our daily lives.  Same goes for your taxes.  TurboTax now offers  mobile apps to help you keep on top of your taxes. Three easy-to-use apps let you forecast, file and track your tax refund from the palm of your hand.
TaxCaster – Want to know how big your tax refund is going to be? TaxCaster is a free tax calculator app that will give you a quick tax estimate. Just enter basic information about you, your income and tax deductions to get a good idea if you will owe money or – hopefully – get a nice big tax refund. (iPhone, Android, WP7, WordPress plugin)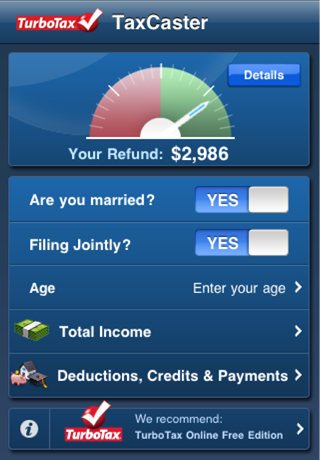 SnapTax – Prepare and file your taxes on your phone. Available nationwide and designed for taxpayers with simple tax returns (1040EZ), SnapTax allows you to snap a photo of your W-2, answer a few simple questions, review your return and e-file your federal and state tax return directly from your phone.  Download and try for free, pay $14.99 when you prepare and are ready to file. (iPhone, Android)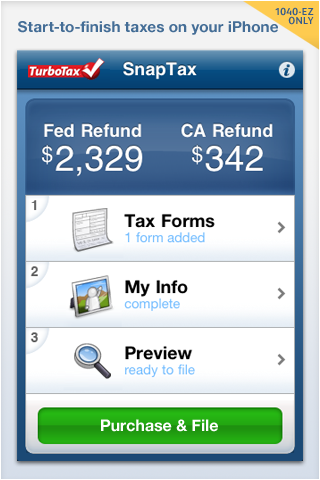 MyTaxRefund – Wondering "Where's my refund?" MyTaxRefund, a free and easy app, is available to any taxpayer that has e-filed their federal tax return.  MyTaxRefund shows you the IRS projected status of your e-filed, federal tax return, tells you if your tax return has been accepted by the IRS and when the IRS estimates you'll get your federal tax refund. (iPhone, iPad)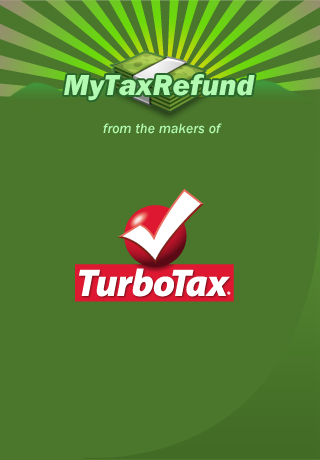 Apps can bring a little bit of fun and definitely convenience to your daily routine, so why not use them to help with your taxes too.