This post can be found en Español here.
We continue celebrating Hispanic Heritage Month at Intuit TurboTax! This week we spoke with three team members about the role and impact of family in their lives. Many Latinos define their identity by the relationships they have with their family; and this isn't limited to immediate members, but includes multigenerational, extended family. Hispanic culture is passed down from one generation to the next through traditions, language, and food.
Continue reading to learn more about how Rafael, Alejandra, and Karla are honoring their traditions and family values while embracing life in the U.S.  
Rafael Blanco, IT Onsite Care Manager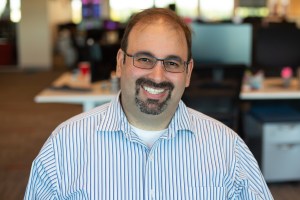 Rafael spent the first 30 years of his life enjoying the nice Caribbean weather, food and the culture of his native Puerto Rico.  The "Boricua" culture is a very important part of who he is today. Puerto Rico is part of the United States, but there are many differences between the island culture and heritage and the mainland one. He recalls the following; "For me and my family, our culture is our life. The American culture is close enough to ours, but the big differentiators are the language, the music, and the food."
Living in the mainland and adapting to a new community can be difficult. "The big challenge for the Blanco family is how to not lose our roots. Our focus right now is on passing down our culture to our daughters Andrea and Adriana while being sensitive to the fact that they were born and raised in Texas.  My wonderful wife (Karla) has developed new family traditions to make sure that the girls understand our culture and grow to respect and love it. One of these traditions is Empanada Tuesday, another one is celebrating Three Kings Day, a Hispanic holiday that takes place on January 6 and represents the visit from the Three Wise Men."
The most important lessons Rafael learned from his culture and family are: "Work hard, be positive, smile no matter what is happening around you, and nothing is personal."
Alejandra Molinari, PR & Communications Manager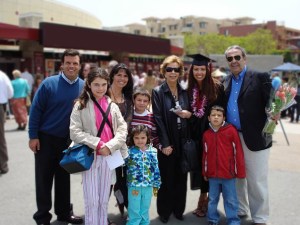 "When I moved to the U.S. 16 years ago, a lot of things were new to me. I had to learn a new language, learn to navigate the U.S. school system, which is completely different than in Chile, and immerse myself into a new world and culture as an international student.  It wasn't easy," recalls Alejandra.
"My first year I stayed with a host family, who opened their home to me, taught me all the do's and don'ts, and most importantly treated me like their own daughter making me feel extremely welcomed as I was new to the U.S.," said Alejandra.
For Alejandra, being far away from home, from her family, and from her entire support system was tough at first but she was able to overcome this over time.  "During my school years, I was very fortunate to meet great friends that became my second family, work opportunities and scholarships became available that made my experience in the U.S much more exciting and rewarding. When I entered the workforce, I  found that being bilingual was an invaluable skill that opened many doors for me. I have always been extremely proud of my Latin American roots and I have always felt good representing my culture anywhere I go."
Karla Uribe, Group Product Manager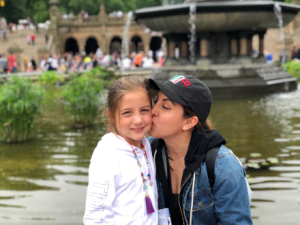 Although she was born in the U.S., Karla was raised in Tijuana, Mexico until she was 18. She notes that passing down Spanish language proficiency to her two kids is extremely important.  "I want my children to speak Spanish because it is my family's language, I can't see my children having a relationship with my parents when they're older if they can't speak to them in their native language. Independent of that, there are many Spanish-speaking countries, I believe that the ability to connect and communicate with other cultures gives us the ability to be empathetic and care about the world."
Married to a non-Latino, Karla highlights the need to maintain Latino traditions while also adopting new ones the entire family can make their own. For her, family is very important and maintaining a connection to multigenerational family members is instrumental.  "My mom was my primary daycare provider for 4 years – I frankly don't know how I would have the life I have without the proximity to family. They're present in every life event and have an influence on every big decision," she notes.
We hope you enjoy Rafael, Alejandra and Karla's stories about the role their culture plays in their lives. Please visit our blog next week as we profile more anecdotes from Hispanic Americans who are making a difference at Intuit. ¡Hasta luego!