This post can be found en Español here.
Celebrating the culture and contributions of those who make up our diverse workforce is an important part of our corporate culture. Every year from September 15 to October 15 our country comes together to observe Hispanic Heritage Month and recognize, promote and acknowledge how Hispanic Americans are positively impacting and influencing our community and overall way of life.  Over the next few weeks, we will use the platform to profile some of our Hispanic team members as they share their experiences growing up as Hispanic Americans. We hope you enjoy their stories and that this gives you a greater appreciation for their contributions.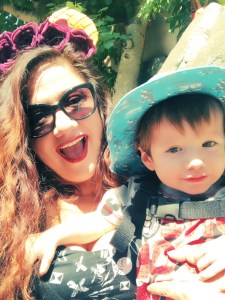 Drea Rodriguez, Director,
Care Risk Operations & Business Transformation at Intuit and 
Customer Success Lead at TurboTax
Although Drea was born in the U.S., she was raised in a Mexican-American household under multigenerational female role models.  "I was lucky enough to have my Nana (Grandmother) and Abuelita (Great Grandmother) watch me while my parents worked. My Abuelita didn't speak English so I learned English and Spanish simultaneously." Growing up multicultural was not so obvious to her at an early age, but as time went by and she entered new social environments she realized that being Mexican-American was an advantage.  "I didn't realize that I was multicultural until I was in junior high. I knew that my dad was white, but I considered us Mexican, and I grew up in a Mexican neighborhood, went to a school with mostly Mexican kids and was surrounded by a very tight-knit community. Once I got to junior high, I was exposed to a much more diverse group of people and that's when I started to realize that I was multicultural."
Growing up she was surrounded by examples of strength, perseverance and love provided by the female role models in her family. "My Nana and Abuelita worked to support their families in various domestic and front-line positions without complaining so that their children would be better off than they were. My Nana (my mother's mom) was such a strong believer in education that, although she didn't graduate from high school, she did pursue her GED in her 30s once I was born so I would know how important education is for Latina women.  My mother was the first person in her family to go to college and received both her Bachelor's and Master's degrees from the University of Arizona. She worked for County and City Government for over 30 years and retired as the Deputy City Manager of Tucson, the highest ranking non-elected woman official in Tucson."
Even though Drea did not feel the need to do anything different to adjust to either culture, she does believe language is a vehicle to keep her culture and heritage alive. "After my Nana and Abuelita passed away, I did not get to use Spanish as often, so I felt the need to keep practicing in order to preserve it."
"My mother shared a quote with me from another amazing Latina leader in Tucson, Edie Auslander, which has resonated with me and is something I cherish, talking about the legacy of our family members who came before us.  'They carried green cards, so we could carry business cards.' These words are a constant source of inspiration," she concluded.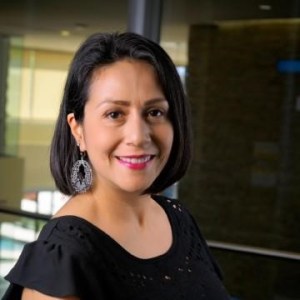 Yolanda Cisneros Kilfoil,
Senior Executive Assistant & Site Engagement Ambassador
Born and raised in California by parents originating from the state of Chihuahua and Durango, Mexico, Yolanda recalls that one of the most important family memories was when her parents became U.S. citizen in 1997. "I'll never forget how proud they were of that moment," she said.  "My parents still live in the house that they purchased in 1973 and I love that my daughter gets to spend time in the house and neighborhood I grew up in. She loves visiting her Lita (Abuelita) and Lito (Abuelito) – the Spanish nickname she has given her grandparents."
Language is a key part of Yolanda's heritage and one that she is trying to pass down to her daughter.  "To this day, my parents speak very little English. I remember having a hard time in elementary school because my parents could never help me with my homework.  My parents had to get tutors to ensure that I wouldn't fall far behind. I speak Spanish at home to my daughter Amelia Ines and even though she may not reply to me in Spanish, she fully understands it and replies to me in English.  Our goal is to get her into a Spanish immersion school because I feel it's important to speak two languages. I want her to be as proud as I am to be bilingual. I make it a point to read Spanish books to her every night."
Growing up Mexican American was a bit of a challenge as she needed to balance both cultures. Yolanda and her brother were born in the U.S., and life was different for them, compared to their parents.  "Our parents didn't understand why we liked the music we did or loved the movies we couldn't stop watching. Our views were always so different from theirs. I always had to defend my opinions and try to help them understand why I felt the way I did."
Passing on traditions to her daughter is of great importance.  "I love teaching our daughter about our Mexican culture. We have our Christmas traditions and a year ago we made an altar at home for Dia de los Muertos (Day of the Dead).  Coco the movie came at a great time because it helped me explain the meaning of this holiday in a way that made sense to a 4 ½-year-old. She helped me make the altar and was very curious about our loved ones who have passed. There are many parades that take place in the Mission district of San Francisco and we love being involved in supporting our local vendors, stores and restaurants during these celebrations."
We hope you enjoy Drea and Yolanda's stories about the role that heritage plays in their daily lives. Please visit our blog next week as we share more stories from Hispanic Americans who are making a difference at Intuit. ¡Hasta la próxima!