With another school year starting later this month, many families are going back to school shopping now. I wanted to share some ways you can save on your back to school shopping.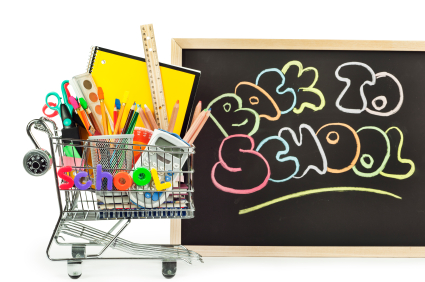 Have a Plan and a Budget
Before you head out the door or go online, make sure you are armed with two basics things – a list of what you need to get and a budget that you can live with.
Last year an online survey done through RetailMeNot found that most parents spend between $100-500 per child on back to school supplies so you see that it varies greatly family to family.
If your kids are older, you may discuss having them set aside a portion of their own money for any extras that they'd like to buy this year. It relieves the financial burden and teaches your kids how to save.
Know Where and When to Shop
Retailers expect a slight surge with shopping this month, so it's up to parents to make sure that they are getting the best prices for what they are buying.
DealNews lists some great places where you can get your kid's wardrobe at some wonderfully cheap prices. There are some summer clearances going in stores on staples like jeans, hoodies, and basic tops. Also remember, many summer clothes can be used for much of the school year.
If you're looking for laptops, tablets, and other electronics, sites like NewEgg.com can give you some competitive deals.
Get School Necessities in Bulk
If you have more than one kid, buying basic supplies like pencils, pens, and paper in bulk can save you money over the entire school year. If you're a warehouse club member, you may be able to get some great deals on these school and home office staples.
Use Online Coupon and Discount Sites
With many parents, going online to find deals for supplies and using coupon and discount sites like RetailMeNot.com can be financially savvy.
Every year they have a back to school deal page that highlights some great savings on items you may already be considering, like kids' clothes, electronics, and other learning materials.
Buying Used for Textbooks
For college students, getting their textbooks used can be extremely cost effective. Since used textbooks usually fly off the shelves at the campus bookstores, sites like half.com can help you find what you need quickly and easily. You may also want to rent out textbooks for the semester for certain classes.
Thoughts on Saving on School Supplies
I hope these tips can save your family some money this month. How many of you are shopping for school supplies, clothes, and technology? Where have you found some good deals?